Introduce Yourself to our readers -
Hi everyone! *waving* I'm Lisa Kessler and I write dark paranormal romance for Entangled Publishing. My Night Series is out now. (Night Walker, Night Thief & Night Demon) I have a new shifter series starting in July with Moonlight. I'm also a huge Disney fan and a singer.
Is this your first RT convention?
- This is my 3rd RT and I can't wait! I'll be participating in Name that Vampire, the Vampire Social, the Chocolate and Spoons party as well as a couple of panels so it'll be crazy busy and super fun!
What are you most looking forward to at RT?
- Meeting readers is by FAR the best part of RT for me. Meeting people who claim one of my characters for their Book Boyfriend, or one of my Street Teamers, or a reader who I know from facebook, and the list goes on. RT makes connecting writers and readers SUPER fun!
If you've been to one before any tips for us newbies?
- Go easy on the "schedule". My first RT I had all day every day scheduled, and by the second day I realized I hadn't allowed any time for meeting up with people and chatting! *pout* So pick the panels/games/parties that are "must attend" and then leave some blank times for you to mingle. :)
What inspired you to write in the paranormal genre?
- I actually got my publishing start by selling horror short stories. I love vampires and shifters, and the Night Series allowed me to combine the two. WIN! :)
Why do you attend conventions?
- I enjoy networking and meeting people, so conventions make it easier to meet up!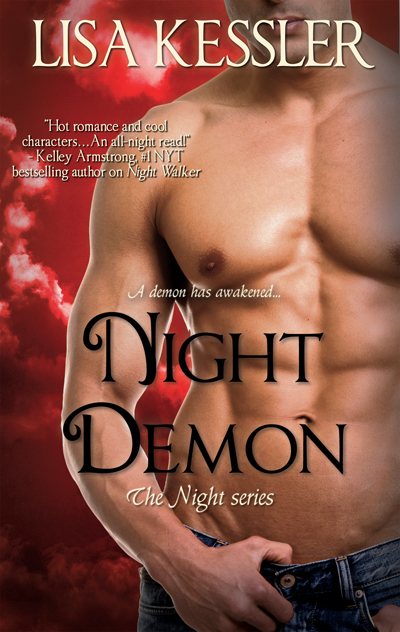 Night Demon
– Released 3-18-13
BLURB -
Deep within the Yucatan jungle a demon has awakened…
Gretchen Finch's job would be much easier if she weren't alone in the jungle with a brilliant recluse whose every glance sets her on fire. But the more she focuses on her work, the closer she gets to unlocking the mysteries of a terrible creature – the Night Demon – that threatens the world as she knows it. Though her scientific mind tells her it's impossible, she's beginning to believe the ancient Mayan tales as the sinister jungle comes alive around her.
Lukas Smith has spent hundreds of years searching for answers to his immortal Night Walker nature. As a series of ancient glyphs become clear, he's about to find out more than he'd ever hoped, but the more he learns, the more his fate intertwines with the Night Demon, and the harder it becomes to hide his immortal secret from the beautiful, intelligent Gretchen.
Together, they must find a way to stop the inexplicable violence and mass destruction surging across the earth before the Night Demon destroys more than just mankind.
Where to Buy:
a Rafflecopter giveaway