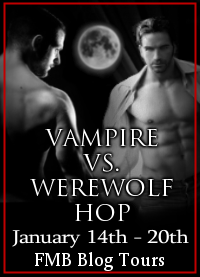 Anyone who has been following this blog for any length of time knows that us Amber's stand on opposite sides of this fence. Which, we know, is surprising because we usually always agree. BUT this is a long standing debate between us and we are going for the final showdown! Best part is? You get to decide which one of us is the winner.
To keep this a little simple we are going to do a top 5 list (was going to do 10 but figured since this is a hop we would keep it smaller) of why our team is better. If we didn't have boundaries then things might get out of hand.
Amber I. Representing Team Werewolf
Top 5 Reasons Werewolves are better than Vampires:
(in no order)
WEREWOLVES HAVE BETTER DIETS:
Seriously vampires diet consist of blood! That is it. What is fun about that? How could you go out to a restaurant? If a vampire brought a human out to a restaurant they would just sit there and watch them eat. That is just creepy. I love food! I mean you guys have seen me, I didn't get this way from a strict one meal diet. So yes werewolves have a better diet option. Food is important to me!
WEREWOLVES ARE ALIVE, VAMPIRES ARE DEAD:
Vampires are just glorified zombies. They are dead. They are not alive! How gross is that?! I would take a living, breathing, warm blooded, food eating man any day! Some werewolves can even reproduce. Hell some vampires have no bodily fluids. Werewolves can tan.
WEREWOLVES HAVE NO CURFEW:
Sorry I am not 10, I do not want to be restricted as to when I can go outside. I like the sun. Yes some vampire books say vampires can go into the sun but its usually an issue somehow, it might take them until they are very old to accomplish this. Well this is not okay to me. I might want to go to the beach, or do something in the sun! I am an adult and therefore I do not want a curfew. It would be just like when I was a kid and having to be in before dark except the opposite.
VAMPIRES HAVE MORE WEAKNESSES THEN WEREWOLVES:
They both have weaknesses but vampires have more. It does depend on what book you are reading but here a few popular weaknesses to vampires. Sunlight, Anything Silver (stakes bullets etc), Fire, Wood Stakes, Garlic , holy water or anything holy (like a bible, a cross, holy ground etc.), they can't enter homes unless invited.... Werewolves weaknesses are silver and wolfsbane. Yes both can be killed if you stake their heart of chop off their head but as you can see vampires have many many weaknesses.So while a vamp can possibly live forever it doesn't mean they will.
WEREWOLVES ARE JUST BETTER:
If the above reasons haven't swayed you then lets just think about.
Werewolves are hot and sexy.
They have crazy animalistic sex!
They are usually in excellent shape.
They can kick some major ass and yes they can kick vampire ass.
Yes most werewolves live longer but you will hardly ever see a 300 year old werewolf hitting on a 16 year old girl! Can we say creep show!
I have never seen a werewolf sparkle.
So yes werewolves might turn into a wolf part of the time, but the other part they are human. Vampires are always vampires! They are dead creatures!
And the body temperature. Who wants a popsicle when they could have the heat of a werewolf!
And I am always right! So if you want to be on a winning team you will vote Team Wolf! lol
Amber R. Representing Team Vampire (the winner)
Okay, okay. We've all read Amber I's rousing reasoning for the reasons that Werewolves are better than Vamps. But really, this is just so wrong I can't even begin to cover all the reasons she's wrong. So let me give you all a few amazing examples of how Vampires are extremely superior to Weres. There is really no contest.
HERE IS A LIST OF REASONS WHY VAMPIRES ARE THE OBVIOUS CHAMPION OVER WERES
Vampires are hot all the time. There is never a time during the night or day when they aren't sexy as all get.
They live forever! This is the ultimate advantage over weres, who only live for a lifetime.
Since they live forever, they have forever to accumulate their riches and treasures. They make sound business and financial decisions.
They are mainly restricted to going out at night. But really who cares? The only people who go out during the day are people who have to work. Vampires don't work because they're rich! And they can simply hire people to do things for them during the day if need be. Also, all the fun stuff happens at night anyhow.
Vampires are collected and think things through. Weres fly off the handle at any given second for no apparent reason. They are wild animals! Even when they're in human form they freak out and act crazy. Uhh, no thanks I don't want to be around someone with split personalities all the time.
Vampires have options. They can do what they want and they don't have to answer to a pack or an alpha. They don't have to responsible for a whole group of people. They do what they want. And freedom is the best thing ever.
A vampire has never fallen in love with a baby. (we can both pull on weird, creepy Twilight stuff)
Vampires can kill a werewolf in the blink of an eye. A vampire can make a werewolf do whatever they want. I mean, all they would have to do is compel them or use logic. We all know that werewolves don't have any logic, they act crazy all the time.
They don't ever turn into crazy, scary dogs! They are their same pretty, wonderful selves all the time.
So maybe werewolves are alive, I really don't think that's much of a consolation when they are pure animal over half of the time.Vampires might be unliving but they are still in human form, they are just advanced more superior humans. There's nothing wrong with that.
All 4 eb

ooks in
Cy

nthia Eden's Forever Bound Series
Open INT

.
as long as you can receive ebooks from
Fill Out

Form to Enter
18 and Older
a Rafflecopter giveaway
More chances at More Giveaways!
(Collection closed)
Link tool by
inlinkz.com