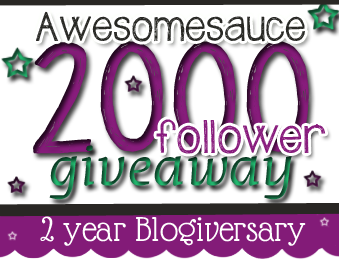 Welcome to 2 years of blogging here at AwesomeSauce Book

C

lub! To
celebrate and to thank every single one of you for being so amazing we're setting up a monster giveaway! We're counting down to the new year, the official end to our second year, and the amazing beginning of our third. With the help of some freaking awesome authors we have a giveaway for each day leading up to the new year.

We Ambers aren't really mushy here at AwesomeSauce but we'd like to

take a minute to sincerely thank every one who has been with us along

this journey. We hope you've enjoyed it as much as we have. And we hope you stick with us in the years to come!
Today's Giveaway is from the AwesomeSauce Stacey Kennedy!!
1 Ebook of The Cat's Meow
Urban Fantasy Romance
Publisher: Entangled Publishing
ISBN: 9781622668571
Length: Novel
Heat Level: Sensual
Release date: December 13, 2012
Price: $2.99
A good witch always has a kick-ass back-up plan.
Libby is an Enchantress—a witch gifted by the Goddess to conjure spells. When a magical presence is detected around a recent string of feline slayings, Libby takes the case to uncover the reasons behind the odd deaths. Much to her displeasure, the coven also sends a sexy warlock, Kale, to assist her.
While having the muscle around proves to be useful, fighting the attraction between them is worse than a hex, especially considering Kale is keeping secrets. But soon, Libby has bigger problems than the elusive warlock when her spells turn up clues that point to something far more sinister than slaughtered cats.
Now Libby has landed herself in the midst of an uprising. She trusts no one and isn't safe—not from the warlocks stirring up trouble. Not from the worrisome rebellion she can't escape. And certainly not from Kale, who is weaving a very dangerous spell over her heart.
Buy for $2.99
Fill out Rafflecopter to Enter
18 and Older
Open International
a Rafflecopter giveaway