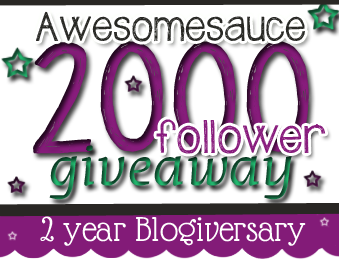 Welcome to 2 years of blogging here at AwesomeSauce Book

C

lub! To
celebrate and to thank every single one of you for being so amazing we're setting up a monster giveaway! We're counting down to the new year, the official end to our second year, and the amazing beginning of our third. With the help of some freaking awesome authors we have a giveaway for each day leading up to the new year.

We Ambers aren't really mushy here at AwesomeSauce but we'd like to

take a minute to sincerely thank every one who has been with us along

this journey. We hope you've enjoyed it as much as we have. And we hope you stick with us in the years to come!
Today we have some AWESOMES

AUCE Prizes from
Heather Hildebrand!
Up for Grabs:
EBOOK OF ACROSS THE GALAXY
Alina Leone is in hiding.

Her parents are dead, her best friend is a horse, and she can't return to her home planet of Gliese until the Shadows, the monsters who hunt for her, are found and destroyed.

But they found her first. The same creatures that murdered her parents and forced her to flee to Earth all of those years ago. And they'll stop at nothing to destroy the only thing standing in their way for universal domination – Alina.

She must find the strength to defeat them, even if it means choosing between victory and the one she was meant to save…
EBOOK OF WHISPER
The Cherokee believe when a person dies, their soul is reborn. Life is repeated. An endless cycle of lessons to be learned, love to be found, destiny to be fulfilled. For the past six months, in every flower, every bird, I've imagined my parents, relieved of their human forms.

Now, after five months at the Skye View Wellness Center, it was summer. A time for parties and friends, but that's the last thing I want to do. So when my best friend Erin convinces me to attend a bonfire at Eagle Point, I can't handle the crowd full of sympathetic stares or drunken class clowns who would use my tragedy as a way into my heart – or my pants. The solitude of the woods offers an escape, until I stumble upon a boy, unconscious and bleeding, his pockets stuffed not with identification but with poetry illustrating the beauty of dying. I've seen enough death. I will not leave this boy's side.

Even after he wakes, when the only thing he can remember are visions of events that haven't happened yet…
Fill Out Form To Enter!
Open to anyone 13 and Older
Open to Anyone Anywhere
(
and if for some reason you only want one book or something, that is okay just let me know if you get picked as the winner and we will give whatever you don't want to someone else
)
a Rafflecopter giveaway
And a SUPER thanks to Heather who donated these items to our event! You rock!