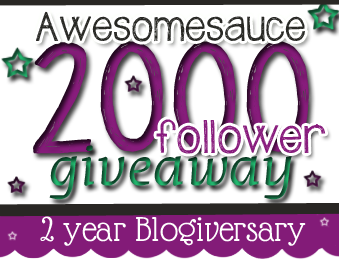 Welcome to 2 years of blogging here at AwesomeSauce Book

C

lub! To
celebrate and to thank every single one of you for being so amazing we're setting up a monster giveaway! We're counting down to the new year, the official end to our second year, and the amazing beginning of our third. With the help of some freaking awesome authors we have a giveaway for each day leading up to the new year.

We Ambers aren't really mushy here at AwesomeSauce but we'd like to

take a minute to sincerely thank every one who has been with us along

this journey. We hope you've enjoyed it as much as we have. And we hope you stick with us in the years to come!
~Let the Count Down Begin~

On our first day we are kicking off with one of our most favorite authors EVE LANGLAIS! We have 2 awesome prize packs. One is US/Canada Only and One is INT only.
US/Canada Prize:
Paperback of..
Croc And The Fox
Genre: Paranormal/Shapeshifter Romance

Warning: An ornery croc discovers he does have a pulse when a hot to trot fox decides to latch on, and never let go. Tongue in cheek humor, sizzling moments and a tiny, evil villain await. Muahahaha.


A career military man, Viktor lives for the next mission – and his collection of weapons -- but a raid on an experimental lab makes him an unwilling protector, mostly because he can't peel Renee off. A cold blooded croc, he never intended to settle down, but he didn't count on a foxy lady warming his heart.

The world outside the laboratory was a big scary place. Unsure of how to deal with it, Renee latches onto the biggest, baddest, and sexiest, warrior around. Sharp toothed and with ice in his veins, Viktor's violent side should have sent her running, but instead, she finds the courage to face her fears –and tame the lizard.

When danger comes knocking, with the intention of turning her lizard into a high priced fashion accessory, will Renee embrace her foxy side and show a croc she's got what it takes to be his mate?

And will they finally vanquish the evil known as mastermind?


Book order for the Furry United Coalition Series (also known as FUC).
Book One - Bunny And The Bear
Book Two - Swan And The Bear
Book Three - Croc And The Fox
Also an FUC T-Shirt!
Fill out Form to Enter:
a Rafflecopter giveaway
INTERNATIONAL ONLY
EBooks of Alien Abduction Trilogy
Fill out Form to Enter:
a Rafflecopter giveaway
These prizes where generously donated to us by the very super super awesome
Eve Langlais!
Thanks so much.