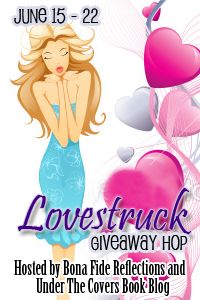 LOVESTRUCK GIVEAWAY HOP
Blog hop runs from 12:01 AM June 15th through to 11:59 PM June 22th, 2012.
Love-struck: (adjective) having a passionate or overwhelming feeling of love; smitten
Our Love-Struck Hero is Terrible From Downside Ghost Series!! We are giving away book 1-3 (in ebook format) to one Lucky winner!! First we will share a quote from each book from our Love-Struck Hero!!
Book 1:
"Terrible thought she was brave. She remembered it now, heard his voice in her head as if he stood next to her. "They scared. Not you, though." Terrible thought she was brave, and if he - a man whose name was Terrible, a man whose path people scrambled to get out of - thought so, it must be true. She could do this, she would do this."
―
Stacia Kane
,
Unholy Ghosts
Book 2:
"I figure you really wanted me you'd say. Like now, maybe, if you dig. I'll fuckin carry you down your place on a run, you tell me aye, get you on your back afore the next word comes out your mouth. But you oughta have yourself certain, causen I ain't lookin for charity, an I ain't lettin you go after. Once...once ain't enough for me, dig?"
―
Stacia Kane
,
Unholy Magic
Book 3:
"You know I do, aye? Love you right, Chessiebomb."
―
Stacia Kane
,
City of Ghosts
You can Click on any of the books for more info on amazon.com
All 3 of these ebooks can be yours!!
18 and Older

Fill Out Form

You just have to be able to accept the books in one of these formats!
a Rafflecopter giveaway