Tonight We Are Proud to Feature the Girls at Talk Supe Blog!! We love them so much. They always have awesome reviews and read books that we love. They are so fun to chat with on twitter!! If you are not already you should totally check them out!
About Talk Supe: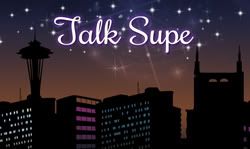 We are just a couple of bookworms who avidly support the "dying" art of print and it just so happen that we developed a fondness for the Supernatural Genre. We find it very stimulating, definitely entertaining and a very good distraction to whatever mundane irritations are happening to us in real life. There will be times where we might persuade you to get up and go to the nearest library or bookstore to get a copy of an old/new piece of work that we find will be worth your while.

Here's to the wonderful world of Vampires, Weres, Fae, Sorcery and everything else in between. Cheers!


What is your favorite book couple?
Cimmaron:
Well since I just read Bared to You I'd have to say Eva and Gideon Cross. They are both flawed and damaged which makes them so much fun to read. Also, their relationship is so intense and passionate.
Braine:
You probably haven't heard of them because the books were published more than a decade ago but my all time favorite would be Meredith Bancroft and Matthew Farrel (Paradise, Judith McNaught), Whitney Stone and Clayton Westmoreland (Whitney My Love, Judith McNaught), Mercy Thompson and Adam Hauptman. These couples have the right amount of cheese, they have a permanent place in my heart.
What genres do you read?
Cimmaron:
I mainly stick to Adult Paranormal Fantasy, Urban Fantasy, Contemporary Romance. Lately, I've been reading more New Adult and *gasps* Erotica. I was a big YA Paranormal fan but I've cut back the last few years. Harry Potter is still one of my favorites series though!
Braine:
Anything as long as it's written well. I have my phases, sometimes I have fun with really stupid reads and at times I get my kicks out of self-help, autobiographies, and "high brow" reads. One thing that I probably wouldn't touch are Christian themed books. Not that I'm against it, I'm Catholic but I find books with this theme too "in your face" and really preachy. I have a good relationship with my creator and I don't need anybody selling scripture to me.
Celebrity crush?
Cimmaron:
Geeesh! how long to do I have. I'll just give you my top five: David Gandy, Henry Cavill, Alexander Skarsgard, Ryan Gosling, Jake Gyllenhall, Brad Pitt and Justin Timberlake. Wait, that's more than five. Obviously, I can't count.
Braine:
Henry Cavill, Jeremy Renner, Ben Barnes and I just developed a serious crush for Chris Hemsworth after I saw his interview segment in The View LOL.
If you could be a paranormal creatures what would you be?
Cimmaron:
Vampire. Vampires have intrigued me for a long time. There is just something dark, mysterious and sensual about them that really intrigues me. Also, I like the fact that they stay young forever. Favorite thing about blogging: At first it was all about discovering new books but after blogging for almost a year my favorite part is meeting other bloggers like Awesome Sauce!
Braine
: A shifter. I like them hot and alive. Favorite thing about blogging: Aside from meeting awesome people, it's a very good creative outlet. I'm a lone wolf and I don't know a lot of people who's obsessed with reading as much as I am so it's nice to have a venue for that.
Who is in your male book harem:
Cimmaron
: Jericho Barrons (Karen Marie Moning, Fever Series), Wrath, Zsadist and Vishous (JR Ward, Black Dagger Brotherhood), Bones (Jeaniene Frost, Night Huntress) and Edward Cullen. HAHAHA! I kid, I kid. No sparkly, fangless vampires in my harem allowed!!!!
Braine
: JZB (Fever), Butch (BDB), Bran Cornick & Adam Hauptman (Mercedes Thompson), Alcide Devereaux (Sookie Stackhouse), Acheron and Nick Gaulter (Dark-Hunters), Gideon Cross (Crossfire)
Book Series you wish to see in a movie or tv show that isn't already in production:
Cimmaron:I'm usually skeptical of book series turning into movies or TV shows because I tend to knit pick everything movie maker or producers miss from the book but if I had to choose it would have to be either J.R Ward Black Dagger Brotherhood or Patricia Briggs Mercy Thompson series.
Braine: BDB
$10 Worth of Books from Book Depository
a Rafflecopter giveaway