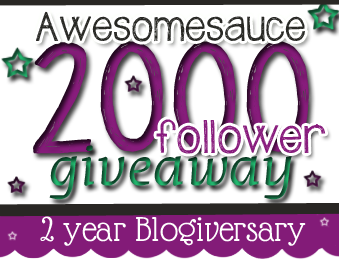 Welcome to 2 years of blogging here at AwesomeSauce Book

C

lub! To
celebrate and to thank every single one of you for being so amazing we're setting up a monster giveaway! We're counting down to the new year, the official end to our second year, and the amazing beginning of our third. With the help of some freaking awesome authors we have a giveaway for each day leading up to the new year.

We Ambers aren't really mushy here at AwesomeSauce but we'd like to

take a minute to sincerely thank every one who has been with us along

this journey. We hope you've enjoyed it as much as we have. And we hope you stick with us in the years to come!
Today's Prize is from us Ambers. Its going to be Winners Choice. You can Choose any book that was mentioned in our 2012 Favorites!
Forget what was mentioned?
Here are the links:
New to Us Series
Books that Rocked our Socks Off
Honorable Mentions
Up to $10. (or if its a hard copy and its a bit more then that is okay.)
I say $10 because if you find a cheap book like say Spiders Bite on kindle is $2.99 you could get that and the next 2 books in that series too because it'll only be $9. Make sense. Well hopefully.
Fill out Form To Enter
Open INT.
a Rafflecopter giveaway