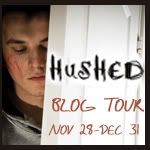 Title:

Hushed
Author:
Kelley
York
Genre:
YA
Thriller
Length:
Novel
Launch 
Date: 
December
2011
ePub
 ISBN:
978‐1‐937044‐73‐2
Print
 ISBN:
978‐1‐937044‐74‐9
He's saved her. He's loved her. He's killed for her. Eighteen-year-old Archer couldn't protect his best friend, Vivian, from what happened when they were kids, so he's never stopped trying to protect her from everything else. It doesn't matter that Vivian only uses him when hopping from one toxic relationship to another—Archer is always there, waiting to be noticed. Then along comes Evan, the only person who's ever cared about Archer without a single string attached. The harder he falls for Evan, the more Archer sees Vivian for the manipulative hot-mess she really is.
But Viv has her hooks in deep, and when she finds out about the murders Archer's committed and his relationship with Evan, she threatens to turn him in if she doesn't get what she wants… And what she wants is Evan's death, and for Archer to forfeit his last chance at redemption.
I have to admit when I first started reading this book, I was not a huge fan. For at least the first 41%(reading on my kindle) it sat there for a long time. I couldn't get over it. Archer seemed too broody, too willing to just do whatever Vivian told him to do. I wasn't a fan of Archer or Vivian. The only one I really liked was Evan. How could you not? He was such a good person. I just didn't like how controlling Vivian was and I didn't like how much Archer just went along with whatever she wanted. It was painful to read.
Once I got through it and just kept reading, I found myself really enjoying the book. I can see and understand what kind of relationship Archer and Vivian had. And it was unhealthy and dark and messed up. I just felt really bad for both of them. They both had horrible things that happened to them. Even though Archer did bad things I really felt like he was a good person and deserved to be happy. I like that Evan helped him get help in the end. I like that they just didn't send Archer with Evan and that was it. He really needed the help and time to heal.
This book is actually really dark and kinda twisted. It was a good book though. You get a lot of character time. You get to see Archer and Vivian change. It has a lot of things that happen that you really don't see happening at all. I'm really glad that I made it through because this is a pretty good book.
About Kelly
Kelley was born and raised in central California, where she still resides with her lovely wife, daughter, and an abundance of pets. (Although she does fantasize about moving across the globe to Ireland.) She has a fascination with bells, adores all things furry - be them squeaky, barky or meow-y - is a lover of video games, manga and anime, and likes to pretend she's a decent photographer. Her life goal is to find a real unicorn. Or maybe a mermaid. Within young adult, she enjoys writing and reading a variety of genres from contemporary with a unique twist, psychological thrillers, paranormal/urban fantasy and horror. She loves stories where character development takes center stage.
Ebook of Hushed
Leave a Comment to Enter
Open International
Ends December 12th
*********************************