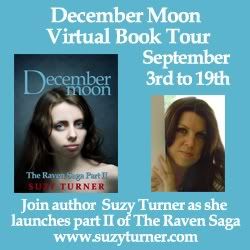 SUZY-
Yesterday I revealed how the ghost of Ruby Madison appeared to me whilst writing December Moon and how she revealed herself to the lead character, her granddaughter December. Today, as Ruby has been hovering over my shoulder while I was trying to write this post, I decided I would ask her a few questions instead.
Hey Ruby! How's life treating you?
Treating me? How on earth do you think it's treating me? I've been dead for the past 20 years or so... how would life be treating you, if you'd been dead for the past 20 years and you'd had no choice but to wear the same dreadful bloody white dress all that time? Honestly... who is writing these questions?
Born? My that was such a long time ago, I can scarely even remember. Where was it? Ah yes, it was back in 1949 in Salem, of all places. My mother Constance had just lost her husband. Oh no, he wasn't dead or anything. He'd run off with a witch half his age and left poor Constance to raise me alone. She did a fabulous job of it though, don't you think, my dear?
What is your most memorable life experience?
Oh now that's an easy one... the birth of my daughter, Moira, back in 1975. It was quite easily the happiest time of my short life. She was a joy to behold. She looked exactly like me, of course with her fiery red hair. She was a lovely child. We had such wonderful times together... until we had to go on the run from that dreadful vampire. What was his name? Hmmm...
Joseph? no, it wasn't that. Harold? Nope. Frederick? Nah. Hm?? Oliver? No... Oh I remember... Duran. His first name was Olivier but everybody called him Duran, for some reason. He was French. Very handsome, of course. Quite the charmer, too. But my goodness, quite the murderer.

Yes, well let's not dwell on the vicious killer who murdered you in cold blood, Ruby.
Tell us about your most treasured possession, Ruby.
My most treasured possession is undoubtedly my
1959 Ford T-Bird in Diamond Blue which I bought many years ago. My daughter and I used to go for long lovely drives down the coast. It was wonderful. If only I could get behind that wheel and take it for a spin again, but alas, that is not to be, is it? My hands go right through anything I try to touch. Oh my T-Bird, my darling, darling T-Bird.
Oh dear, I guess the questions have come to an abrupt end. Ruby began sobbing and she's disappeared. Literally disappeared. Oh well.