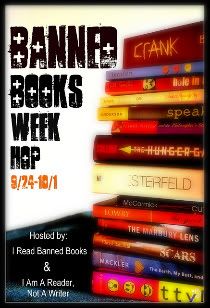 Welcome to this stop on the Banned Book Week Giveaway Hosted by
and
Forever
Katherine and Michael meet at a New Year's Eve party. They're attracted to each other, they grow to love each other. And once they've decided their love is forever, they make love. It's the beginning of an intense and exclusive relationship, with a future all planned. Until Katherine's parents insist that she and Michael put their love to the test with a summer apart..."Forever" is written for an older age group than Judy Blume's other novels for children. It caused a storm of controversy when it was first published because of its explicit sexual content. It was a book ahead of its time - and remains, after thirty years in print, a teenage best-seller. America's No. 1 children's author has written some of the best books of our time about real-life issues - family stress and pressures, what happens when your parents divorce, the problems of growing up and sexual awakening, bereavement - with insight, sensitivity and honesty. The response of readers all around the world continues to make her one of the best-loved writers ever published.
According to the ALA website this book is in the Top 10 Most Banned Books from 1990-2001.
Amber R. Rants
This might be a short rant because I want be short, concise, and straight to the point.
It is no one's business, besides my own, what books I decide to read. It has nothing to do with anyone else. The fact that books actually still get banned makes me want to scream. This is 2011, not the dark ages. It doesn't matter how much other people think that certain books are inappropriate to read, it is not their decision. If you don't want to read those books, if they are to risque for you then don't read them. It's really as simple as that.
Amber I's Rant
I could go on this big rant how dumb I think banning book is but I want to share a funny story. My 10 year old son and his friend play those zombie video games where they shoot people and it makes me uncomfortable. But one day he went to this same friends house (where they play all these games) and he mentioned Harry Potter. The mom heard him and got mad and asked him not to talk about that kind of witchcraft in her house!!
See people are just so freaking narrow minded and a bunch of other things we just won't get into! Its people like this, that sit there and try to ban books and they have no idea what they are talking about!!
RULES
Open International
Leave Comment to Enter
Be an AwesomeSauce Follower
Easy Peasy!!
And Make Sure You Hop Around!!