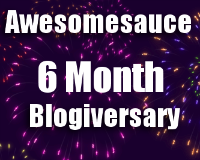 Welcome to AwesomeSauce 6 Month Blogiversary!!! We are going to be giving away lots of books all Month Long!! We have broken it down to 4 weeks of Giveaways. Here is the schedule
July 1st-- YA Indie Author Giveaway
July 8th- YA Published Author Giveaway
July 15th- ADULT Published Author Giveaway
July 22nd- ADULT Indie Author Giveaway
July 29th- WINNERS ANNOUNCED
Giveaway Rules:
*Must be a Follower
(this is a giveaway to say a huge THANK YOU to everyone who supports the blog!!)
*Fill Out Form
(comments will not enter you)
*Open Internationally
Points You Can Earn
* +2 Old Follower
* +1 New Follower
* +2 Blogiversay Image on your Blog
* +2 AwesomeSauce Button on your Blog
* + 2 To Repost
* +2 Leaving a Comment on the Giveaway Post
*+1 for adding Correct Points
The only thing that is a must is a follower the rest is extra!!
Our YA Published Author Giveaway is.......
Your Choice of (can only pick 1)
And signed Swag From Jenna Black!!
Front
Back (Signed)
Again thanks everyone!! Especially those who comment on things other then giveaways.lol It just makes me smile to see people commenting on reviews or interviews.. I love it!!
ENTER
HERE