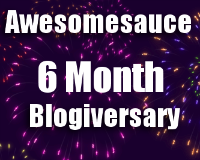 Welcome to AwesomeSauce 6 Month Blogiversary!!! We are going to be giving away lots of books all Month Long!! We have broken it down to 4 weeks of Giveaways. Here is the schedule
July 1st-- YA Indie Author Giveaway
July 8th- YA Published Author Giveaway
July 15th- ADULT Published Author Giveaway
July 22nd- ADULT Indie Author Giveaway
July 29th- WINNERS ANNOUNCED
Giveaway Rules:
*Must be a Follower
(this is a giveaway to say a huge THANK YOU to everyone who supports the blog!!)
*Fill Out Form
(comments will not enter you)
* Open Internationally
Points You Can Earn
* +2 Old Follower
* +1 New Follower
* +2 Blogiversay Image on your Blog
* +2 AwesomeSauce Button on your Blog
* + 2 To Repost
* +2 Leaving a Comment on the Giveaway Post
*+1 for adding Correct Points
The only thing that is a must is a follower the rest is extra!!
WEEK 4
This is the last Blogiversary giveaway. Winners will be announced next Friday. Today's Giveaway is Adult Indie Authors
eBooks
PaperBack
You can choose 1 or you can get them all!! It is up to you. If you do not want some then I will pick a 2nd winner.
Also some signed swag from Stacey Kennedy
There are 3 items. The picture shows 5 so you can see front and back. The one above A Warriors Witch is a magnet. (sorry about the picture quality)
Enter
HERE
And See you back here next Friday for the WINNERS!!!!

*** To make sure I can announce winners next Friday on Thursday I will be picking winners for the first 3 weeks. Then after midnight I will pick week 4 winners. Please respond ASAP to emails so I can pick a 2nd winner if there are 2 and I can get the post up on Friday. ***

*