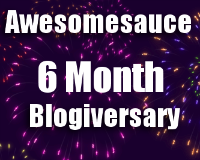 Welcome to AwesomeSauce 6 Month Blogiversary!!! We are going to be giving away lots of books all Month Long!! We have broken it down to 4 weeks of Giveaways. Here is the schedule
July 1st-- YA Indie Author Giveaway
July 8th- YA Published Author Giveaway
July 15th- ADULT Published Author Giveaway
July 22nd- ADULT Indie Author Giveaway
July 29th- WINNERS ANNOUNCED
Giveaway Rules:
*Must be a Follower
(this is a giveaway to say a huge THANK YOU to everyone who supports the blog!!)
*Fill Out Form
(comments will not enter you)
* Open Internationally
Points You Can Earn
* +2 Old Follower
* +1 New Follower
* +2 Blogiversay Image on your Blog
* +2 AwesomeSauce Button on your Blog
* + 2 To Repost
* +2 Leaving a Comment on the Giveaway Post
*+1 for adding Correct Points
The only thing that is a must is a follower the rest is extra!!
Adult Published Author Giveaway.. There are 2 different categories to choose from. And there will be 2 Winners. In form you can tell me what prize pack you want #1 or #2 (if #2 tell me what book) Please put that under links (I forgot to put somewhere on there for you to do it)
If you pick #1 but only want one of the books, that is fine please let me know.
Prize 1
(From Publisher)
Prize 2
Your Choice of 1 Book
(I know there is a lot. The links will bring you to amazon) It is the rest of the series from The Otherworld by Kelley Armstrong. This way if you haven't read it or only some you can now. But this is for only 1 book.
Bitten: A Novel (Women of the Otherworld, Book 1)
Stolen: A Novel (Otherworld)
Stolen: A Novel (Otherworld)
Dime Store Magic (Women of the Otherworld)
Industrial Magic (Women of the Otherworld, Book 4)
Haunted (Women of the Otherworld, Book 5)
Broken (Women of the Otherworld, Book 6)
No Humans Involved (Women of the Otherworld, Book 7)
Personal Demon (Women of the Otherworld, Book 8)
Living with the Dead (Women of the Otherworld, Book 9)
Frostbitten (Women of the Otherworld)
Tales of the Otherworld (Women of the Otherworld)
Men of the Otherworld: A Collection of Otherworld Tales (Women of the Otherworld)
Fill out Form
HERE