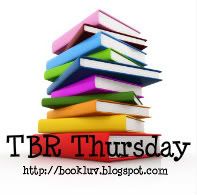 TBR Thursday is a weekly post hosted byBook Love Blog where we announce the books in all forms and from all sources that we received/bought/picked up to read. Scroll down to add your link below.
My Books this Week From the Library
Embraced by Darkness by Keri Arthur
Ravens Shadow by Patricia Briggs
Kiss of Midnight (The Midnight Breed, Book 1)
by Lara Adrian
Books I got for my upcoming Birthday! (YAY)
Thanks to my friend Becky
Switched by Amanda Hocking
Torn by Amanda Hocking
Ascend by Amanda Hocking
Toil and Trouble by H.P Mallory
Also for My Birthday my Cousin Sondra bought me (I read from library but did not own it) SUPER HAPPY!
Nightshade by Andrea Cremer
I am expecting some more too. I told everyone to buy me books. And my actual Birthday is not until the 19th so I am hoping for a few more. (HINT HINT Hubby)haha!! :)
Is it weird that I am turning 28 and I put up a Bday Wishlist of books?