Hosted By
Lazy Girl Reads
1. Encourage people to support their libraries when they can
2. Meet new bloggy friends and grow your following
How to participate (UPDATED):
* Create a Library Thursday post with a list, pictures or a vlog of your books. Or feature a cool picture of a library, or spotlight one of your favorite libraries.
* Grab my button if you like it and include it in your post! Make sure to shout the library out that you went to!
* Once you've created your post, link it to the linky at the bottom of
Lazy Girl Reads
weekly post
* Hop around to the other blogs participating and check out what other people are reading. Be sure to leave them a comment to let them know you were there, this is about making friends as well!
Each week, I will list which books I've picked up, put on hold, skimmed through at the library. It's a great way to see what other bloggers are browsing through while we are waiting for new titles to come out. And it's a blog hop! So you can make some more bloggy friends. YAY!
My Books This Week Are
Angelfire by Courtney Allison Moulton
Unearthly by Cynthia Hand
Look at how LOW I am!!lol I still have 2 others from last week. But I do not think I am going to be able to read them. I have just gotten to busy!!
A special THANKS TO MY LIBRARY Marysville Ohio Library
Keep Reading to see other books I have TBR
*****************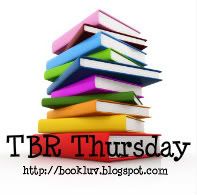 TBR Thursday is a weekly post hosted byBook Love Blog where we announce the books in all forms and from all sources that we received/bought/picked up to read. Scroll down to add your link below.
My Books this Week From the Library (see above)
Books I got for my upcoming Birthday! (YAY)
Thanks to my friend Becky
TBR
Switched by Amanda Hocking
Torn by Amanda Hocking
Ascend by Amanda Hocking
Toil and Trouble by H.P Mallory
Also for My Birthday my Cousin Sondra bought me (I read from library but did not own it) SUPER HAPPY!
Nightshade by Andrea Cremer
Also from author Stacey Kennedy who requested me to review some of her books.
Stolen Dreams by Stacey Kennedy
Click HERE to see my Review
Already Read but wanted to share since I got it after last weeks Post.
The Willow by Stacey Kennedy
In Carson City, Nevada a tragic car accident has claimed the lives of Nexi Jones' adoptive parents. Now, without them, her reason to live has vanished and she is determined to end her pain. The problem with that, it's not heaven she wakes up to, it's the Otherworld. Nexi must reconcile the truth about her past, and her heritage as part guardian/part witch, while she begins to train to join the Council's guard. But it's not the combat training that has her worried, its attempting to keep her cool around the luscious guardian, Kyden that's her biggest concern. Before long, Nexi's skills are put to the test as she begins to fight against the supernatural who have taken a human life. But nothing can prepare her for the journey ahead. Soon, she will find herself lost in a mystery and fighting to keep all she's gained, as Lazarus, a vampire, threatens to take it all away
And Monday I recieved Darkest Mercy by Melissa Marr from Good Golly Miss Holly Arc Tours.
Already Read, But still wanted to share it. Since I got it after last weeks post.