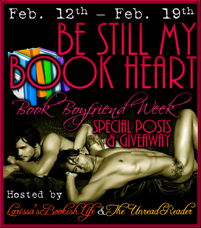 This Week
Larissa's Life
and
The Unread Reader
are hosting a week long event of deliciousness sure to set your senses a blazing with Be Still My Book Heart: Book Boyfriend Week.
But this still more or less like The Top 5 Sunday also... Check out
Larissa's Life
and
The Unread Reader
for more info!!
My Top 5 are
1. Bones from Night Huntress series
2. Dimitri Belikov from Vampire Academy series
3. Eric Northman from Sookie Stackhouse series
4.Clay from The Otherworld series
5. Roman from Succubus Blues
This was really hard and I am sure I am going to be like crap I forgot this person. Also kept them all Adults.lol.