Today's Guest being interviewed is Nina @
Brush Up On Your Reading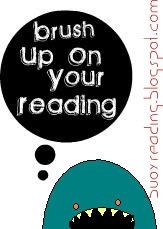 Why do you Blog?
I have been wanting to blog for the longest time, but I always thought that I'm not that good at writing about my day or my innermost thoughts or whatever on a blog - I can't even manage to keep a diary much less a blog! But then I had this short vacation from work in November and apart from housework, there was nothing to do at home. I decided to read a book I had on my shelf (The Bermudez Triangle by Maureen Johnson) and I was really pleased when I finished it that I began to search the internet for more info about it and its author and that's when I saw all those book reviews about that book and I was surprised at how many book blogs there were out there and what a great idea to blog about books. So I decided to start my own. Actually, I've always been one to talk about books I've read, and even in a bookstore, I would try to sell a book I loved to a random stranger - and usually they do get that book :D
What do you look for in a review
I'm not really a professional book critic, I just do this for fun - but when I read a book review, I would like to see more of the reviewer's actual thoughts and not just a summary of the whole book and just a couple of sentences about the reviewer's opinion.


If you had to promote your blog in a tweet (140 characters or less)what would you say?
This blog is evil! DON'T VISIT THIS BLOG! http://bit.ly/ggu23C -and I still have 76 characters left to mess with :D
If you could live in one of your favorite "book worlds" what one you pick
I would love to live in Anna Karenina's world - if only so I could wear those beautiful gowns. I could also live with Paul and his friends in Boy Meets Boy.




Some book worlds are a bit scary what book world are you glad not to be in?
I would not like to be in any vampire/zombie/werewolf world. Getting my blood sucked/my brain eaten/my body torn apart is so not cool.


Your bookshelf is on fire and you can only save what you can carry what books would that be?
I'd get a box and fit them all in it! Okay, finding a box is not the best answer, I'd take Anna Karenina, Pride and Prejudice, Wuthering Heights, Speak, Prom, Wintergirls, Life on the Refrigerator Door, Boy Meets Boy, Will Grayson, Will Grayson, Still Alice... I could probably carry more - the benefits of having long arms!


If you could switch places with one character from a book who would it be and why?
I would switch places with Lia from Wintergirls by Laurie Halse Anderson just so I could stop the anorexia from further destroying her - what could help her more than a girl with a big appetite? For a more fun switch, I'd switch with Nina Bermudez in The Bermudez Triangle because we have the same names and almost led the same lives so we both won't have that much trouble adjusting - and I have a little crush on Parker!


Do you have a favorite reading spot, if so where is it?
If it's a sunny morning, I'd read in a corner of our rooftop, but usually I'm slumped on my bed.
You're in a bookstore what section do you go to first?
The bookstore people and other frequent customers can tell you that I would always, always visit the new arrivals section first.
If you could meet an any author (alive or dead) who would you want to meet? and what would be the first question you would ask them?
I'd love to meet David Levithan and if I'm being cheeky, I'd ask, "Are you David?" But seriously? I guess I'll get all tongue tied and awe struck and I'll just hand over my books so he could sign.

For dead authors, I would love to meet Jane Austen and ask her what she thinks of all those books that have been using her novels to create more outrageous stories.
Thanks so much Nina for your awesome answers and helping me out! I really appreciate it. And make sure you check out her blog @ Brush Up On Your Reading