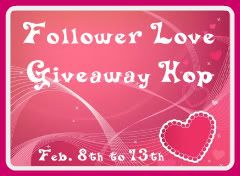 The Follower Love Giveaway Hop will take place from February 8th to February 13th with winners being announced on Valentines Day.
The hop will run from 12:01 AM on February 8th to 11:59 PM on February 13th.
I have some cool things that I will be giving away...
YA Swag!!!
Bookmark
-
Born at Midnight C.C Hunter
Bookmark
-
Need, Captivate and Entice by Carrie Jones
Temp Tattoo
-
Ink Exchange tat from Melissa Marr
Sticker
-
"Haunted by the Hollow" from Jessica Verday
Small Poster
-
From The House of Night books by PC Cast and Kristen Cast
Bookmark
--
The Awakening and The Summoning by Kelley Armstrong
and maybe a few more bookmarks. Will post picture once the giveaway is going on.
Do not enter yet!!!
This is just a preview and I was just wanting to see if this sounded like a good giveaway.
If you like it, let me know. Or if you think it needs something else or you have experience in giveaways where people do not care for swag like stuff.
Thanks for any input and if you do like it, Come back on the 8th!!!